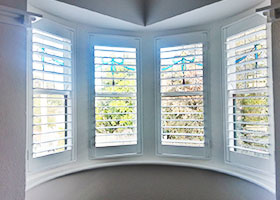 Bay Window Plantation Shutters
Bay Window Shutters allow a large amount of natural light into a room a number of different types of shutter panels can fit into these areas which sets the bay windows apart. They can easily be designed to be the focal point of the space.
Bay Window Shutters enhance the lines of your bay and improve light flow. Direct the light and heat wherever you choose and increase privacy.With lovely angles and a stylish use of space, admittedly, bay windows are a beautiful addition to any family home. The welcoming structure of bay windows is perfect for minimalist homes that want just a bit of warm character. However, plain old bay windows can get boring and, in time, they just might turn your home into a bland case of nothing special.
Main Showroom 
Our main showroom is located in Wonga Park and by appointment only, please call Norm  directly  on 0433 771 955 to book a time
Call Us
Office - Showroom (03) 9722 1509
Mobile : 0433 771 955
Our Products
Plantation Shutters
Roller Blinds
Vertical Blinds
Roman Blinds
S-Wave Folded Sheers